Particle System for Buildbox 3 + Demo Game
A downloadable asset pack
WHAT IS IT?
A complete particle engine for Buildbox you can use to create special effects like: fires, trails, explosions, sparks, fountains, smoke, rain, snow and much more. It works in both 2D and 3D Worlds, here you'll find a couple of demo clips, all of the effects shown are generated in real-time with the Particle System for Buildbox 3.
EASY TO USE...
You can setup a particle system in a few seconds! Check this clip!

...YET POWERFUL!
Here's a map of the attributes available for you to easily customize a particle system and to create your own collection! For more information on customizing effect or creating your own check the documentation here.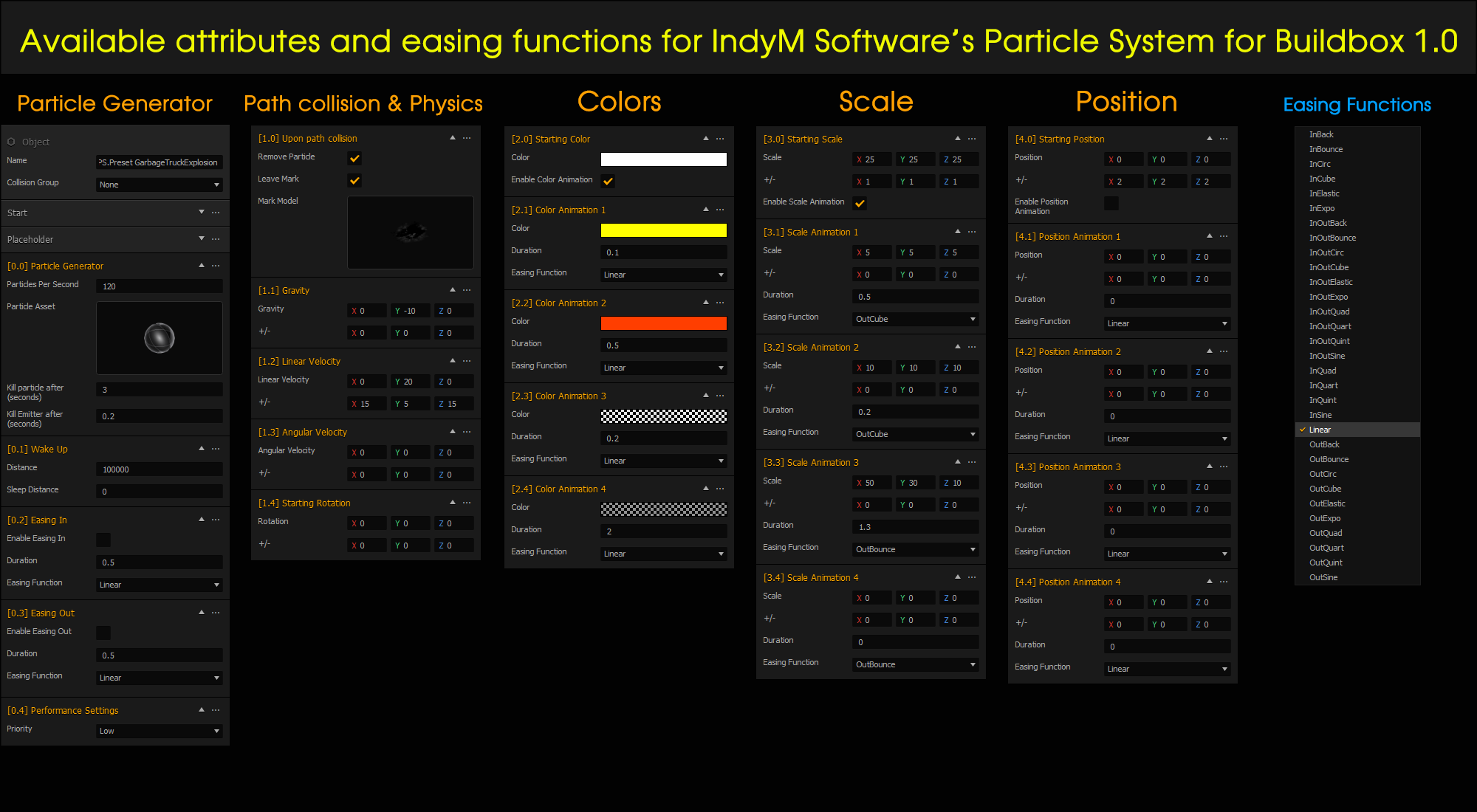 ISN'T THERE A PARTICLE SYSTEM IN BUILDBOX?
Unfortunately, no, there isn't. Unlike Buildbox 2, Buildbox 3 lacks a particle system, that's why this project came into existence at first.
WHAT'S INCLUDED?
Inside the package you'll find a set of folders containing .bbasset files for Buildbox:
BPS.Emitter.bbasset: the emitter is the object which creates particles; you drop it in your world, load a preset asset into it and you're done!
BPS.Global_Settings: an optional component you may use to manage performance settings for all the particle emitters in game at once.
24x BPS.Preset: loaded by the emitter, presets are set of rules that define particles behavior. You can have as many presets as you wish. Presets are fully configurable and can be duplicated to create your own effects.
Every preset included in this package will generate a different effect, you'll find fires, trails, explosions, sparks, fountains, smoke, rain, snow and much more.
Other presets will be soon available for download at indym.itch.io.
6x BPS.Particle: this is the particle object, a 3D Model that will be created by the Emitter and will follow the rules specified in the selected Preset. Most effects works best with flat particles but you might have particles in any shape, it can be a sphere, a cube or even a more complex model. A few BPS.Particles are included with the particle engine, others are available for download at indym.itch.io.
5x BPS.Mark: an optional component you can enable and load in the Preset object, this can be used to leave a mark on the ground when a particle hits it; consider an explosion or a fire, you can use this to leave burns or maybe white hot splinters on the ground or blood stains when your character gets killed and so on.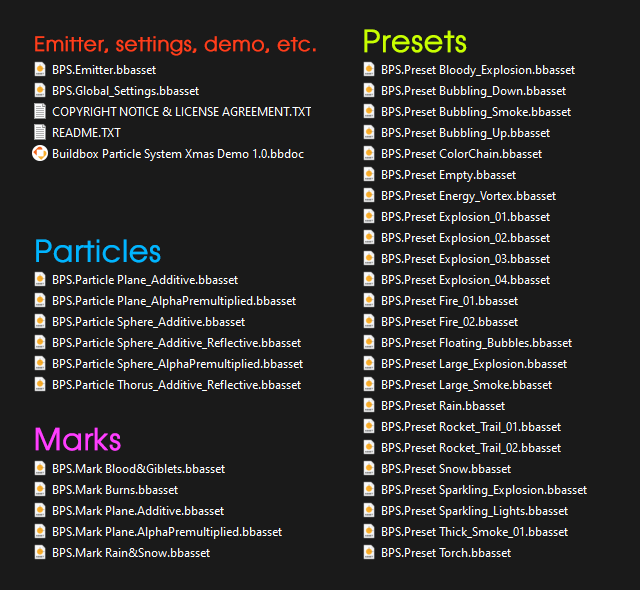 BONUS CONTENT
A mini game (Buildbox Particle System Xmas Demo 1.0.bbdoc) is included in the package. It demonstrates many of the functionalities of the particle system.
Here's a clip showing the mini game:
SYSTEM REQUIREMENTS
You just need Buildbox 3.3.5 or higher to use the assets in this package.
Tested and fully compatible with latest Buildbox release: 3.5.0.
These assets will work no matter the plan you are in (Free, Plus, Pro, etc.).
COPYRIGHT NOTICE & LICENSE AGREEMENT
Please note that this asset package and all of its content, including source code, is protected by copyright, it is not open source.
In short you can use it in any of your Buildbox projects but please don't share it, it took a lot of effort to design, create and optimize it.
In detail here's a more exhaustive copyright notice for this asset package, please read it carefully, thank you!
Once purchased you are free to use the asset package within your personal and commercial Buildbox projects.
And of course you are free to publish, sell or otherwise distribute any app or software you export from Buildbox that makes use of any of the assets in this asset package.
You are not allowed to allow users of such apps or softwares you created to access, extract and/or use any of the assets included in this package outside of the software, for example you are not allowed to distribute a Buildbox template or asset which includes any content coming from this asset package.
For sublicensing, volume licensing or any other request please contact me!
You are not allowed to copy, sell, give away or otherwise distribute any of the assets contained in this asset package, either in their original form or in any modified form. You are not allowed to remove this copyright notice.
Purchase
In order to download this asset pack you must purchase it at or above the minimum price of 39.90€ EUR. You will get access to the following files: